What is FN® Nano Coatings?
FN® Nano coatings are intelligent multifunctional coatings using photocatalytic nano technology to eliminate odors, allergens and toxic chemicals from the air and to effectively prevent occurrence of viruses, bacteria and other organisms.
FN® Nano coatings protect walls, ceilings, facades and historical monuments from mold, algae, darkening, aging and ultraviolet radiation.
When used in medical facilities, schools, and public buildings, FN® eliminates spread of infections, create a healthy environment and purifies the air.
When applied on roofs, FN® creates a thin layer that reflects sunlight and reduces heat transference.
FN® Nano coatings can be effectively used as a protection against graffiti. Graffiti sprayed on FN® coating layer can be easily removed with high-pressure water hose without any damage to the underlying substrate.
---
FN® Nano is in compliance with Canada legislative requirements.
---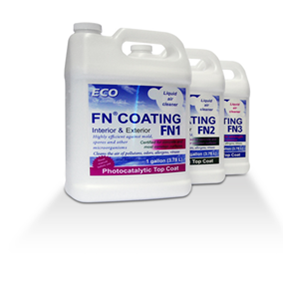 Are FN® Nano Coatings safe?
None of the ingredients of the FN® NANO photocatalytic coatings are toxic or cause any harm to multi-cellular organisms. All the ingredients of the coatings are natural minerals and all except titanium dioxide are necessary ingredients of the human diet.
Pure titanium dioxide (TiO2) is a fine, white powder that is widely used in many consumer products including cosmetics, toothpaste, food coloring, pharmaceuticals, and sunscreens. TiO2 is one of the most common minerals on the planet.
Titanium dioxide is approved by the Canadian Food Inspection Agency on the basis of Reference Listing of Accepted Construction Materials, Packaging Materials and Non-Food Chemical Products.